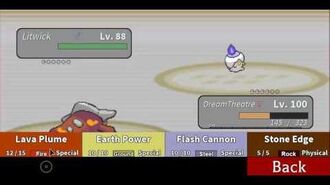 When a Pokémon with the ability 'Flame Absorb' is hit by a Fire-type move, the Pokémon is healed by a 1/4 of its maximum HP, and the move has no effect. If the Pokémon already has maximum HP, the move does nothing. It is the same as the ability Flash Fire.
Pokémon with this Ability
As Flame Absorb is a temporary ability for Pokémon with 'Flash Fire', Pokémon that have 'Flash Fire' in the traditional games have 'Flame Absorb' in Project Pokemon. Pokémon that have other abilities in the Project Pokemon game will have those instead of Flame Absorb (ex: Arcanine and Growlithe will have 'Intimidate ' instead of 'Flame Absorb').
| Pokemon | Type |
| --- | --- |
| Vulpix | |
| Ninetales | |
| Ponyta | |
| Rapidash | |
| Flareon | |
| Houndour | Dark |
| Houndoom | Dark |
| Heatran | Steel |
| Litwick | Ghost |
| Lampent | Ghost |
| Chandelure | Ghost |