The Pokédex is a handheld electronic Pokémon encyclopedia. The player has a Pokédex in their possession upon their first arrival in the game. It is one of the main objectives of the game to complete all entries of the Pokédex. (Please note that some of the in-game Pokédex entries are made by Wish_z and are NOT official.)
Use
To access the Pokédex, open the 'Menu' tab seen on the left of the screen. Click the uppermost selection in blue text called 'Pokédex' to open it. There are three stages of discovery in the Pokédex:
Unknown - The entry's name is '?????'. There is no information.
Discovered - The entry's name is registered. There is limited information.
Captured - The entry's name is registered and there is a Pokéball beside its number.
NOTE: Only Pokémon that have been owned by you (by means of capturing, roulette, trade or mystery gift) are counted in the Trainer Card's Pokédex statistic.
Accolades
There are currently three ranks acquirable from Pokédex entries .
Pokémon Trainer - 100+ Pokédex Entries
Pokémon Expert - 250+ Pokédex Entries ( Champion Badge required )
Pokémon Master - 450+ Pokédex Entries ( Champion Badge required )
You also encounter Professor Oak again in Saffron City's PokéCenter. If you talk to him with 300+ Pokédex entries, he will give you a particular Pokémon. This particular Pokémon cannot be obtained through roulette, only through the traditional way (300 Pokédex entries), or through trade. You need spare space in your party to receive it. The pokemon is a Heatran.
Interface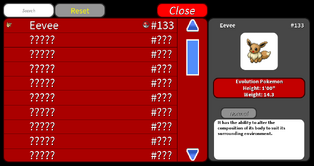 The Pokédex's interface is simple and easy to use. There are two main components of the interface. To the left is the scrollbar with the entire list of Pokémon entries. A search filter above makes it easier to find a specific entry. To the right is information regarding the selected entry. When complete, it displays its Name, Species, Height, Weight, Type, Description, National Number, and Recolors of that pokemon.
Pokédex
Note: Some Pokemon are not in-game yet.
Generation I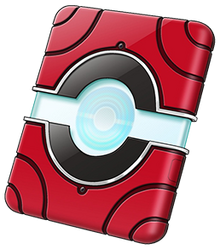 Generation II
Generation III
Generation IV
Generation V
Udex
Ndex
MS
Pokémon
Type
#000
#494
Victini

Psychic

Fire

#001
#495
Snivy

Grass

#002
#496
Servine

Grass

#003
#497
Serperior

Grass

#004
#498
Tepig

Fire

#005
#499
Pignite

Fire

Fighting

#006
#500
Emboar

Fire

Fighting

#007
#501
Oshawott

Water

#008
#502
Dewott

Water

#009
#503
Samurott

Water

#010
#504
Patrat

Normal

#011
#505
Watchog

Normal

#012
#506
Lillipup

Normal

#013
#507
Herdier

Normal

#014
#508
Stoutland

Normal

#015
#509
Purrloin

Dark

#016
#510
Liepard

Dark

#017
#511
Pansage

Grass

#018
#512
Simisage

Grass

#019
#513
Pansear

Fire

#020
#514
Simisear

Fire

#021
#515
Panpour

Water

#022
#516
Simipour

Water

#023
#517
Munna

Psychic

#024
#518
Musharna

Psychic

#025
#519
Pidove

Normal

Flying

#026
#520
Tranquill

Normal

Flying

#027
#521
Unfezant

Normal

Flying

#028
#522
Blitzle

Electric

#029
#523
Zebstrika

Electric

#030
#524
Roggenrola

Rock

#031
#525
Boldore

Rock

#032
#526
Gigalith

Rock

#033
#527
Woobat

Psychic

Flying

#034
#528
Swoobat

Psychic

Flying

#035
#529
Drilbur

Ground

#036
#530
Excadrill

Ground

Steel

#037
#531
Audino

Normal

#038
#532
Timburr

Fighting

#039
#533
Gurdurr

Fighting

#040
#534
Conkeldurr

Fighting

#041
#535
Tympole

Water

#042
#536
Palpitoad

Water

Ground

#043
#537
Seismitoad

Water

Ground

#044
#538
Throh
Fighting
#045
#539
Sawk
Fighting
#046
#540
Sewaddle
Bug
Grass
#047
#541
Swadloon
Bug
Grass
#048
#542
Leavanny
Bug
Grass
#049
#543
Venipede
Bug
Poison
#050
#544
Whirlipede
Bug
Poison
#051
#545
Scolipede
Bug
Poison
#052
#546
Cottonee
Grass
Fairy
#053
#547
Whimsicott
Grass
Fairy
#054
#548
Petilil
Grass
#055
#549
Lilligant
Grass
#056
#550
Basculin
Water
#057
#551
Sandile
Ground
Dark
#058
#552
Krokorok
Ground
Dark
#059
#553
Krookodile
Ground
Dark
#060
#554
Darumaka
Fire
#061
#555
Darmanitan
Fire
#062
#556
Maractus
Grass
#063
#557
Dwebble
Bug
Rock
#064
#558
Crustle
Bug
Rock
#065
#559
Scraggy
Dark
Fighting
#066
#560
Scrafty
Dark
Fighting
#067
#561
Sigilyph
Psychic
Flying
#068
#562
Yamask
Ghost
#069
#563
Cofagrigus
Ghost
#070
#564
Tirtouga
Water
Rock
#071
#565
Carracosta
Water
Rock
#072
#566
Archen
Rock
Flying
#073
#567
Archeops
Rock
Flying
#074
#568
Trubbish
Poison
#075
#569
Garbodor
Poison
#076
#570
Zorua
Dark
#077
#571
Zoroark
Dark
#078
#572
Minccino
Normal
#079
#573
Cinccino
Normal
#080
#574
Gothita
Psychic
#081
#575
Gothorita
Psychic
#082
#576
Gothitelle
Psychic
#083
#577
Solosis

Psychic

#084
#578
Duosion

Psychic

#085
#579
Reuniclus

Psychic

#086
#580
Ducklett

Water

Flying

#087
#581
Swanna

Water

Flying

#088
#582
Vanillite

Ice

#089
#583
Vanillish

Ice

#090
#584
Vanilluxe

Ice

#091
#585
Deerling
Normal
Grass
#092
#586
Sawsbuck
Normal
Grass
#093
#587
Emolga
Electric
Flying
#094
#588
Karrablast
Bug
#095
#589
Escavalier
Bug
Steel
#096
#590
Foongus
Grass
Poison
#097
#591
Amoonguss
Grass
Poison
#098
#592
Frillish
Water
Ghost
#099
#593
Jellicent
Water
Ghost
#100
#594
Alomomola
Alomomola
Water
#101
#595
Joltik
Bug
Electric
#102
#596
Galvantula
Bug
Electric
#103
#597
Ferroseed
Grass
Steel
#104
#598
Ferrothorn
Grass
Steel
#105
#599
Klink
Steel
#106
#600
Klang
Steel
#107
#601
Klinklang
Steel
#108
#602
Tynamo
Electric
#109
#603
Eelektrik
Electric
#110
#604
Eelektross
Electric
#111
#605
Elgyem
Psychic
#112
#606
Beheeyem
Psychic
#113
#607
Litwick
Ghost
Fire
#114
#608
Lampent
Ghost
Fire
#115
#609
Chandelure
Ghost
Fire
#116
#610
Axew
Dragon
#117
#611
Fraxure
Dragon
#118
#612
Haxorus
Dragon
#119
#613
Cubchoo
Ice
#120
#614
Beartic
Ice
#121
#615
Cryogonal
Ice
#122
#616
Shelmet
Bug
#123
#617
Accelgor
Bug
#124
#618
Stunfisk
Ground
Electric
#125
#619
Mienfoo
Fighting
#126
#620
Mienshao
Fighting
#127
#621
Druddigon
Dragon
#128
#622
Golett
Ground
Ghost
#129
#623
Golurk
Ground
Ghost
#130
#624
Pawniard
Dark
Steel
#131
#625
Bisharp
Dark
Steel
#132
#626
Bouffalant
Normal
#133
#627
Rufflet
Normal
Flying
#134
#628
Braviary
Normal
Flying
#135
#629
Vullaby
Dark
Flying
#136
#630
Mandibuzz
Dark
Flying
#137
#631
Heatmor
Fire
#138
#632
Durant
Bug
Steel
#139
#633
Deino
Dark
Dragon
#140
#634
Zweilous
Dark
Dragon
#141
#635
Hydreigon
Dark
Dragon
#142
#636
Larvesta
Bug
Fire
#143
#637
Volcarona
Bug
Fire
#144
#638
Cobalion
Steel
Fighting
#145
#639
Terrakion
Rock
Fighting
#146
#640
Virizion
Grass
Fighting
#147
#641
Tornadus
Flying
#148
#642
Thundurus
Electric
Flying
#149
#643
Reshiram
Dragon
Fire
#150
#644
Zekrom
Dragon
Electric
#151
#645
Landorus
Ground
Flying
#152
#646
Kyurem
Dragon
Ice
#153
#647
Keldeo
Water
Fighting
#154
#648
Meloetta

Normal

Psychic

#154
#648
Meloetta

Normal

Fighting

#155
#649
Genesect

Bug

Steel
Generation VI
Vldex
Ndex
Pokémon
Type
#001
#650
Chespin
Grass
#002
#651
Quilladin
Grass
#003
#652
Chesnaught
Grass
Fighting
#004
#653
Fennekin
Fire
#005
#654
Braixen
Fire
#006
#655
Delphox
Fire
Psychic
#007
#656
Froakie
Water
#008
#657
Frogadier
Water
#009
#658
Greninja
Water
Dark
#010
#659
Bunnelby
Normal
#011
#660
Diggersby
Normal
Ground
#012
#661
Fletchling
Normal
Flying
#013
#662
Fletchinder
Fire
Flying
#014
#663
Talonflame
Fire
Flying
#015
#664
Scatterbug

Bug

#016
#665
Spewpa

Bug

#017
#666
Vivillon

Bug

Flying
#018
#667
Litleo
Fire
Normal
#019
#668
Pyroar
Fire
Normal
#020
#669
Flabébé
Fairy
#021
#670
Floette
Fairy
#022
#671
Florges
Fairy
#023
#672

Skiddo
Grass
#024
#673
Gogoat
Grass
#025
#674
Pancham
Fighting
#026
#675
Pangoro
Fighting
Dark
#027
#676
Furfrou
Normal
#028
#677
Espurr
Psychic
#029
#678
Meowstic
Psychic
#030
#679
Honedge
Steel
Ghost
#031
#680
Doublade
Steel
Ghost
#032
#681
Aegislash
Steel
Ghost
#033
#682
Spritzee
Fairy
#034
#683
Aromatisse
Fairy
#035
#684
Swirlix
Fairy
#036
#685
Slurpuff
Fairy
#037
#686
Inkay
Dark
Psychic
#038
#687
Malamar
Dark
Psychic
#039
#688
Binacle
Rock
Water
#040
#689
Barbaracle
Rock
Water
#041
#690
Skrelp
Poison
Water
#042
#691
Dragalge
Poison
Dragon
#043
#692
Clauncher
Water
#044
#693
Clawitzer
Water
#045
#694
Helioptile
Electric
Normal
#046
#695
Heliolisk
Electric
Normal
#047
#696
Tyrunt
Rock
Dragon
#048
#697
Tyrantrum
Rock
Dragon
#049
#698
Amaura
Rock
Ice
#050
#699
Aurorus
Rock
Ice
#051
#700
Sylveon
Fairy
#052
#701
Hawlucha
Fighting
Flying
#053
#702
Dedenne
Electric
Fairy
#054
#703
Carbink
Rock
Fairy
#055
#704
Goomy
Dragon
#056
#705
Sliggoo
Dragon
#057
#706
Goodra
Dragon
#058
#707
Klefki
Steel
Fairy
#059
#708
Phantump
Ghost
Grass
#060
#709
Trevenant
Ghost
Grass
#061
#710
Pumpkaboo
Ghost
Grass
#062
#711
Gourgeist
Ghost
Grass
#063
#712
Bergmite
Ice
#064
#713
Avalugg
Ice
#065
#714
Noibat
Flying
Dragon
066
#715
Noivern
Flying
Dragon
#067
#716
Xerneas
Fairy
#068
#717
Yveltal
Dark
Flying
#069
#718
Zygarde
Dragon
Ground
#070
#719
Diancie
Rock
Fairy
#071
#720
Hoopa

Psychic

Ghost

#072
#721
Volcanion

Fire

Water
Generation VII