A shiny Pokémon is a variation of the Pokémon but has a different color. Shinies are rarer than their regular counterpart.
How to Get a Shiny Pokémon
Shinies can be found anywhere. Normally, the chance to find a shiny is 1/1000 (0.1% chance). If you want an increased chance to find them, Gamepass 7, multiplies it by 100, resulting in a 1 in 10 chance.
Appearance
Some Pokémon get a major color change, and others change a bit, but not a lot. But there is also Pokémon like Minior that have a shiny form, but looks exactly the same. Some change a very small amount, like Garchomp.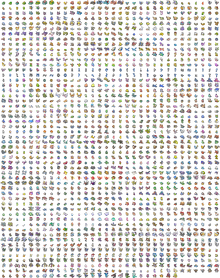 "Overpopulated" Shinies
These shinies look good (sometimes), and are things that you would want. Here's a list.
About Shinies
Shinies are much, much rarer than normal Pokémon. In official Generation 1 Pokémon games, shinies weren't a thing. They were shiny if the stats were higher than original. If you don't think it is, send it to Gen 2, where shinies are the ones we have today.
Shiny Pokemon Gallery
This is an extensive collection of shiny Pokémon screenshots from Project:Pokémon. Most of them are from @Zack1223344556666's PC.
| | | | | | |
| --- | --- | --- | --- | --- | --- |
| | | | | | |
| Venusaur | Charizard | Blastoise | Sceptile | Blaziken | Swampert |
| | | | | | |
| Torterra | Infernape | Empoleon | Pidgeot | Espeon | Umbreon |
| | | | | | |
| Solrock | Lunatone | Lucario | Togekiss | Gardevoir | Gallade |
| | | | | | |
| Gyarados | Pangoro | Greninja | Dedenne | Luxray | Slaking |
| | | | | | |
| Aggron | Tyranitar | Flygon | Eelektross | Haxorus | Hydreigon |
| | | | | | |
| Salamence | Dragonite | Goodra | Metagross | Milotic | Yanmega |
| | | | | | |
| Ho-Oh | Lugia | Regice | Regirock | Registeel | Regigigas |
| | | | | | |
| Latias | Latios | Suicune | Entei | Raikou | Mewtwo |
| | | | | | |
| Volcarona | Cresselia | Darkrai | Groudon | Kyogre | Rayquaza |
| | | | | | |
| Rapidash | Porygon-Z | Celebi | Golurk | Swoobat | Donphan |
| | | | | | |
| Persian | Vulpix | Eevee | Machop | Mareep | Psyduck |
| | | | | | |
| Dugtrio | Magmar | Gloom | Porygon | Mew | Larvitar |
| | | | | | |
| Gastly | | | | | |