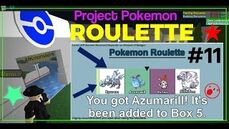 To spin the Roulette, you have to pay 6 Robux and you will get the Pokémon on which the Pointer stops. The Upgraded Roulette, which gives you a higher chance of a better Pokémon, costs 18 Robux.
To play the Roulette, you need to talk to the man outside of every Pokemart with a black suit.
You can get every variation of a Pokemon in the game (including shinies and auras) and the level of Pokemon depends on the Badges you've earned. Every Pokémon in the game can be obtained from the Roulette except for Rotom, Druddigon, Aegis, Marshadow, Glubbie and Arceus. Rotom was removed from the Roulette at the beginning of February 2017. Because of this, Rotom is now considered a lot more valuable than before.
Example: Having 7 GYM Badges makes all the Pokémon won from the Roulette be level 77.
Tiers
Each Pokemon from the Roulette has a 'tier' or 'rarity' that is indicated by the color in the background and chat text. The rarer the tier, the less likely that you are to get that Pokémon.Here are the tiers for the Pokemon Roulette:
Light Green = Common
Here are some common Pokémon in the chart below:
Jigglypuff and Wigglytuff are also a light green rarity.
Green = Uncommon
Here are some uncommon Pokémon in the chart below:
Light Blue = Rare
Dark Blue = Even Rarer
Gyarados, Milotic and Lucario are also a dark blue rarity.
Purple = Very Rare
All Pokemon with 600 base stats in total and can sometimes be a legendary or a Pseudo-Legendary
Hydreigon is also a purple rarity.
White = Ultimate
Very hard to get legendary Pokémon or a Pseudo-Legendary
Orange = Pokemon that cannot be caught in the wild